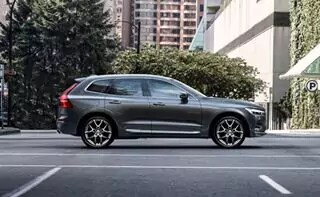 ROCKLEIGH, NJ (June 7, 2018) – Swedish luxury carmaker Volvo can add yet another award to its burgeoning trophy case.
Editors at leading consumer car buying website Cars.com this week chose the Volvo XC60 the "Best Luxury Compact SUV of 2018" over contenders from European, Asian and domestic automakers. The award comes on top of XC60 being named 2018 World Car of the Year and 2018 North American Utility of the Year earlier this year.
"The Volvo XC60 has a true luxury feel, with all of the features and interior materials you would expect," said Jenni Newman, Cars.com's editor-in-chief. "Its winning combination of comprehensive technology, practicality and quality, combined with safety features and value, are what propelled it to the top spot."
The challenge put seven of the top vehicles in the class against each other in a series of extensive testing across 13 categories, including interior quality, front-seat comfort, backseat comfort, cargo storage, in-cabin storage, multimedia features, convenience features, handling, powertrain, ride quality, noise, visibility and worth the money.
Vehicles ranked in the following order:
2018 Volvo XC60
2018 Audi Q5
2019 Infiniti QX50
2018 Cadillac XT5
2018 Alfa Romeo Stelvio
2018 BMW X3
2018 Lexus NX 300
Each model was also judged on zero-to-60-mph times, panic-braking distances, fuel costs, the advanced active-safety and driver-assistance features with which the test vehicle was equipped, and its grades in Cars.com's Car Seat Check, which gauges the accommodation of various child-safety seats.
"Everyone at Volvo are so proud to accept this award from the experts at Cars.com," said Anders Gustafsson, President and CEO of Volvo Car USA. "The XC60 really gives luxury SUV shoppers a unique alternative to the usual players, and one they can be confident in."
*Information obtained from Volvo Car USA Newsroom.